Welcome to the Brussels Edition, Bloomberg's daily briefing on what matters most in the heart of the European Union.
The spike in Europe's energy prices could hardly come at a more awkward time for the EU and member states. EU governments are already divided over the executive arm's proposals for deepening the 2030 emissions-reduction goal, and those tensions are likely to be heightened by the rise in gas and power prices. Brussels is looking to commission head Ursula von der Leyen to give some indication on her strategy in her state of the union speech this morning. On the eve of that address, EU climate chief Frans Timmermans said the surge in prices must not undermine the resolve to cut emissions and should instead become a trigger to speed up the green transition. Governments are already acting: Spain moved to ease the cost of energy bills, France is considering it and Greece has announced a subsidy for all households.
China Screening | The EU will aim to agree on a framework for working with the U.S. to screen potentially hostile foreign investments when officials meet in Pittsburgh later this month, we're told by a person familiar with preparations. The plan is for a statement of principles that would see them share information and data relating to foreign takeovers and cooperate on assessing investments in strategic assets.
Less Hysteria | Germany's sudden spike in pandemic-induced inflation is prompting a noticeably less hysterical response than the country is used to. Against the backdrop of the imminent election, climate-change policies, infrastructure, high rents and taxes are far more prominently debated economic issues than the fastest surge in consumer prices since 2008 — with one academic saying "it's surprisingly quiet."

Economic Test | The greatest challenge facing Europe's rebounding economy is whether authorities can implement the changes needed to transform its potential, European Central Bank President Christine Lagarde told us in an interview. A key test now hinges on how Europe acts to close the longstanding gap between northern and southern countries, reduce inequalities exacerbated by the pandemic and aid the transition to a more environmentally-sustainable economy, she said.
Play Ball | Bank of England Governor Andrew Bailey issued a fresh broadside over the EU's post-Brexit plans on clearinghouses, warning in an interview for a Bloomberg conference that any upheaval risked a "real threat" to financial stability. He urged the EU to decide sooner rather than later whether the city's dominant clearinghouses can take business from clients inside the bloc, ahead of a temporary waiver lapsing next June. 
Post-Brexit Delay | The U.K. bought itself more time, announcing it delayed the introduction of additional post-Brexit border checks on goods from the EU, as retailers battle a supply chain crisis fueled by the pandemic and the effects of quitting the bloc. Physical inspections of EU food imports due to start in January will now begin in July.
2030 Vision | Margrethe Vestager, the EU's technology chief, is working on targets for making Europeans better able to use digital services by 2030. The European Commission plans to push projects on several fronts, from training people to use technology to encouraging companies to take more advantage of digitalization, rolling out better internet connections and delivering more government services online.
Putin Isolates | Russian President Vladimir Putin is going into self-isolation after people around him fell sick with Covid-19. The leader canceled his plans to fly to Tajikistan this week to attend a summit to discuss Afghanistan and will hold online meetings instead.
Anti-Migrant Polling | The Polish government's anti-migrant stance is helping rebuild the popularity of the embattled ruling party. Opinion surveys show an uptick two weeks after the nationalist government imposed an unprecedented state of emergency along Poland's border with Belarus after thousands of immigrants, many from Afghanistan and Iraq, tried to cross the EU's eastern frontier.
Bond Demand | The EU met strong investor demand on its return to the bond market with a seven-year debt sale. Analysts had expected a rush of orders from investors because the bonds are relatively scarce and the central bank is able to buy up to 50% of the EU's issuance, providing a guaranteed backstop.
Not Terrorists | Two men accused of insider trading told EU judges that investigators shouldn't have intruded into their privacy in the same way they're allowed to in terrorist or spying probes. Lawyers for independent traders Alexis Kuperfis and Lucien Selce said only issues of national security could warrant some exemptions to strict EU privacy rules and allow investigators to access phone records.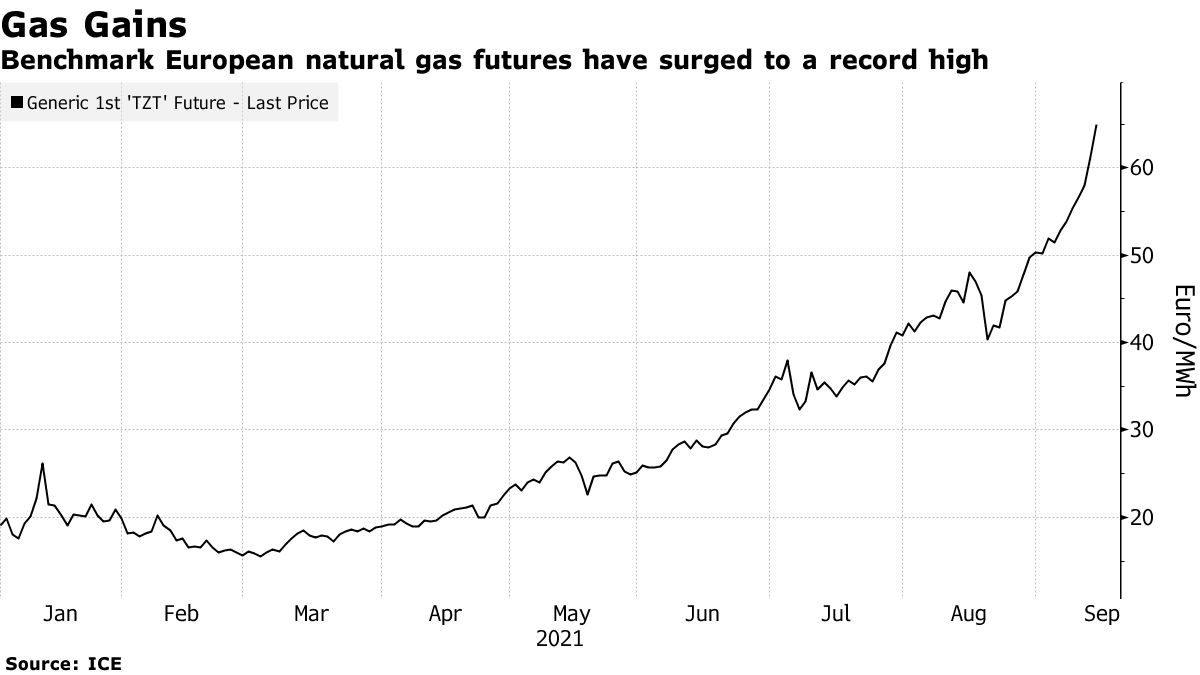 Gas and power prices extended gains in Europe yesterday, reaching records in countries including Germany, France, Spain and the U.K. Energy prices are skyrocketing as economies emerge from the pandemic — boosting demand just as supplies are falling short. The records are being broken even in the mild weather, and are fueling concerns about inflation. 
All times CET.
9 a.m. Commission President Ursula von der Leyen delivers state of the union address before the European Parliament in Strasbourg
10 a.m. Bloomberg TV hosts a German election round-table with the CEOs of Deutsche Bank and SAP, the former CEO of Siemens and one of Chancellor Angela Merkel's economic advisers.
3 p.m. U.S. assistant trade representative for Europe Daniel Mullaney and commission trade officials speak at EPC event on transatlantic trade
European Commission College discusses Indo-Pacific strategy and package on European Health Emergency Preparedness and Response Authority
Justice Commissioner Didier Reynders joins a roundtable in Strasbourg on rule of law
Like the Brussels Edition?
Don't keep it to yourself. Colleagues and friends can sign up here.
For even more: Subscribe to Bloomberg.com for unlimited access to trusted, data-driven journalism and gain expert analysis from exclusive subscriber-only newsletters.
How are we doing? We want to hear what you think about this newsletter. Let our Brussels bureau chief know.
Before it's here, it's on the Bloomberg Terminal. Find out more about how the Terminal delivers information and analysis that financial professionals can't find anywhere else. Learn more.
You received this message because you are subscribed to Bloomberg's Brussels Edition newsletter.
Unsubscribe | Bloomberg.com | Contact Us
| | | |
| --- | --- | --- |
| | | | |
Bloomberg L.P. 731 Lexington, New York, NY, 10022